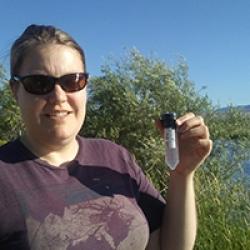 When fourth-year anthropology student Catherine Mendel was young, she would flip through her parents' encyclopedia collection to the sections on world archaeology. She would read the pages over and over, dreaming of one day becoming an archaeologist herself. Years later, after getting her start at Columbus State, Mendel is achieving her dream at Ohio State in the Department of Anthropology.
Mendel's area of study is environmental archaeology, which examines how ancient civilizations interacted with their environments. She chose the field because it combines her passion for anthropology with her lifelong love of nature.
"Growing up, nature was always really important to me, and I've always kind of gravitated toward classes on the environment," she explained. "It just seemed like a natural marriage, combining what I loved doing outside of academia with my academic interest."
According to Mendel, although there has been a longstanding tradition in archaeology of examining how past peoples interacted with and changed their environments, developments in other fields now allow for both a more nuanced and more complete picture of past systems – a perspective that can greatly inform efforts for protecting our current environment.
"We can learn so much about how people interacted with their environment in the past to help inform our interactions with our environment today," she said. "We can find out where we might be going wrong."
Click to read the complete article on the Arts and Sciences news page.