September 11, 2019
APOP fundraises to bring alumna's honors project to life
Image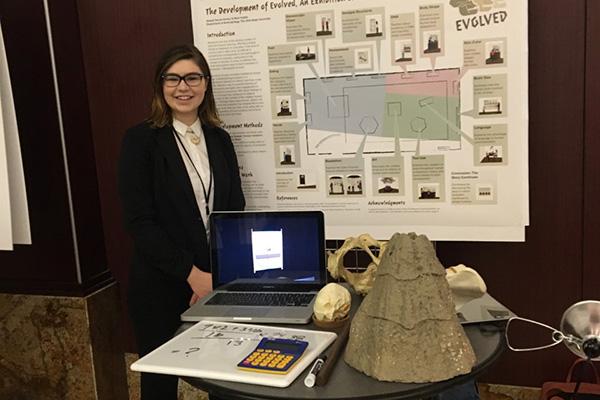 Description
Meet the creative mind behind our Evolved exhibit (currently in it's fundraising stage): Abbey Sarver-Verhey. Abbey graduated in 2018 with a B.S. in anthropological sciences and a minor in design. Together, these majors covered the practice, methods, and content of informal science education. For her Honors Thesis at The Ohio State University, Abbey designed Evolved, an interactive exhibition on human evolution that invites people of all ages and levels of science to explore and learn about how human evolution works and impacts their own lives.
When asked about her inspirations and motivations for designing Evolved, Abbey says,
"I decided I was really interested in creating an exhibit that would make evolution more accessible to non-specialist audiences. Evolved was the result, and the goal of the exhibit was to promote accessibility of evolutionary concepts through the relevant lens of our modern bodies. I spent about three years total on the project, doing content research, interactive development and prototyping, graphic and spatial design, and looking for a partner to host the exhibition." 
Evolved has eight interactive stations (see u.osu.edu/APOP/Evolved for concept designs, or follow our page to see their post next week) that are organized into three major topics: What does it mean to be human? How do humans vary? How do humans think and communicate? Visitors will cover everything from feet—where they will walk over models of footprints and compare their foot shape to those of other animals—to the brain, where they can expand balloons to see how the total surface area of our brain compares to other animals. Other subtopics include DNA, skin color, brain size, tool use.
Abbey is currently continuing her education at The University of the Arts in Philadelphia, where she is getting her MFA in Exhibition Planning and Design. Her current project focuses on an exhibit about the local paleontology of Philadelphia and writing a Masters Thesis on promoting cognitive accessibility and relevance in natural science exhibitions. Upon completion of her degree, Abbey intends to pursue a career in exhibit design for science and natural history museums.
Evolved is currently in the fundraising stage through the Anthropology Public Outreach Program (APOP). Columbus' Center of Science and Industry (COSI) has agreed to build and host the exhibit for an extended period, with a total estimate of $51,111. After its time at COSI, the exhibit will travel to public museums around the state of Ohio. For information on how to donate see: http://bit.ly/APOP-Evolved .  Any donation over $200 will feature the donors name at the exhibit entrance. All donations go directly to the project; in the event the fundraising goal is not met by the deadline (September 30), the team will continue to seek funding from additional grants the goal is met.
What are some good reasons to contribute to Evolved?
Columbus is one of the fastest growing cities in the US, but it has no public spaces presenting aspects of Human evolution.
OSU, as one of the largest Universities in the country, has an important role in bringing scientific knowledge to a broader audience, and will be well represented by Evolved.
Evolved is the result of an undergraduate Honors Thesis, which just goes to show the impact that an anthropological degree can have nowadays.
Evolved is all about understanding evolution for all ages and walks of life. It is designed to let the visitor explore the connection between their bodies and the evolution of our species.
Evolved will become a travelling exhibition and will reach out to all corners of Ohio, so our support will have long lasting and broad impact!
 

Collaborators: Outside the university, Abbey worked heavily with COSI. Within the university, Abbey collaborated with Mark Hubbe (anthropology), Laura Wagner (psychology), and Dana Carlisle Kletchka (Arts Administration). APOP is sponsored by the Office of Diversity and Inclusion.
News Filters:
---