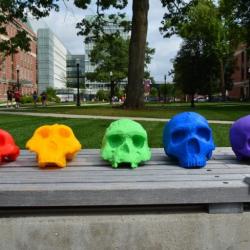 Ohio State program teaches community human diversity
The Anthropology Public Outreach Program started from a reaction.
A few years ago, posters promoting white supremacy appeared on campus, stirring controversy across the university, including the Department of Anthropology.
"We're all humans and we all understand each other enough that we can understand differences, and we can understand how we are the same at the core of it," said Kimberly Whitman, an Ohio State alumna with a degree in anthropology.
While trying to find a way to contribute to knowledge while increasing people's exposure to human diversity, the Department of Anthropology created APOP.