June 19, 2019
Bioarchaeology at Çatalhöyük: Living during a time of change
Image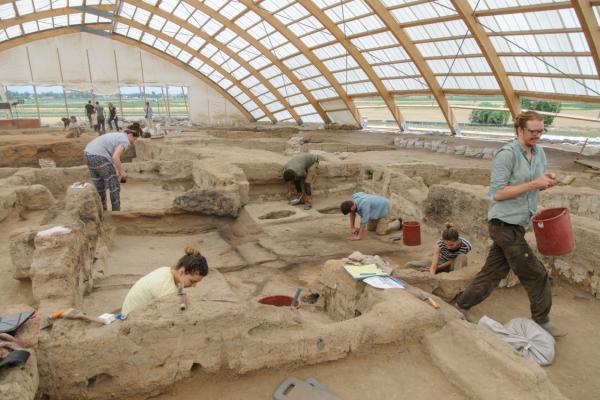 Description
How do we understand the past? For the proto-urban site of Çatalhöyük, located in modern day Turkey, the answer is 25 years of excavation and post-excavation research. In a paper published in the Proceedings of the National Academy of Sciences (PNAS) on June 17, 2019, Dr. Clark Spencer Larsen and colleagues summarized the results of life 9,000 years ago when people began a sedentary agricultural lifestyle.
Çatalhöyük was occupied over a span of 1,150 years, from 7100–5950 BC.  As part of the Chatalhoyuk Research Project, directed by Dr. Ian Hodder, bioarcheological researchers were interested in questions surrounding the people who occupied the city during this transitional period: What did they eat? How healthy were they? How did they interact?
To answer these questions, researchers conducted a series of analyses including stable isotope, biological distance, and skeletal analyses. Results showed a diet of domesticated grains (e.g., wheat) with animal protein from sheep and goats and various wild species of plants and animals. As a result of the grain-heavy diet, residents saw an increase in tooth decay. Skeletal analysis similarly revealed an increase in infectious diseases over time as the proto-city became more densely occupied.  Crowded conditions are also associated with an increase in violence-related injuries, suggesting that overcrowded conditions may have resulted in elevated stress levels that led to conflicts within the community.  (For more information, see Dr. Larsen's interview with Ohio State News.)
In the same issue, PNAS highlighted Dr. Larsen's career, including his inspirations and contributions to the field of bioarchaeology. Dr. Larsen has been with The Ohio State University's Department of Anthropology since 2001 where he served as departmental chair from 2001–2017. Dr. Larsen directs the Bioarcheology Research Laboratory (BARL) at OSU, where graduate and undergraduate students have the opportunity to receive hands-on-training while working on active projects. 
Interested in hearing more about the transition to agriculture? Dr. Larsen recently interviewed with the Arts and Sciences podcast "Voices of Excellence," where he described the effects on human health during this transition. The episode can be accessed here. 
For questions and comments, please contact Dr. Larsen at Larsen.53@osu.edu
Photo Credit: Scott Haddow
Story by Emma M. Lagan
News Filters:
---