March 18, 2019
Conference Presentations: SfAA, HBA, AAPA, SAA
Image
Image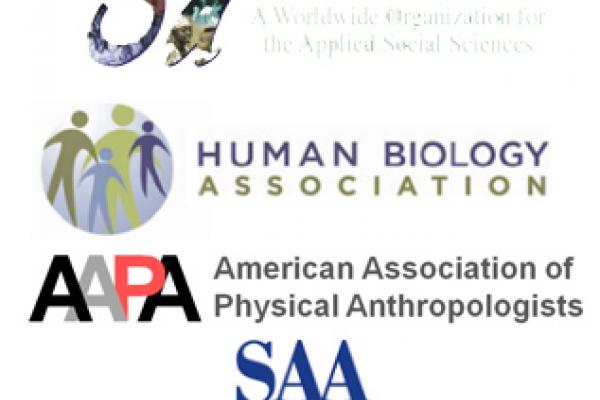 Description
One of the most important aspects of conducting research is sharing the results. Academic conferences are an ideal place to present these finds. Every spring, four main organizations conduct their annual meetings: Society for Applied Anthropology (SfAA), Human Biology Association (HBA), American Association of Physical Anthropologists (AAPA) and Society of American Archaeology (SAA) (The American Anthropological Assocaition (AAA) holds their meetings in the fall). 
Below is a list of all of the presentations by OSU Anthropology faculty, graduates, and undergraduates at each upcoming meeting. If you are attending, drop by one of these sessions to hear about the amazing research coming out of our department! OSU Anthropology affiliates are listed in bold. 
---
79th Annual Meeting of the Society for Applied Anthropology (SfAA): March 19–23, 2019. Portland, Oregon                              
"The Society for Applied Anthropology (SfAA) was founded in 1941 to promote the investigation of the principles of human behavior and the application of these principles to contemporary issues and problems. Since that time membership has expanded to over 2,000. The Society now sponsors two major journals (Human Organization and Practicing Anthropology) as well as a Monograph Series and occasional special publications. The Society has become the preeminent international organization in the field." – SFAA.net/about
WEDNESDAY, MARCH 20
Podium
(W-99) 1:30–3:20, Galleria II: Naming and Enumerating the Health Effects of Gender Based Violence (GBV TIG)
TRASK, Lexine: The Aftermath of Violence: Understanding the Effects of Physical and Sexual Violence on Single Mothers' Economic Mobility
(W-138) 3:30–5:20, Director's Suite: What Can Birds Tell Us of Turbulent Times
ARCENO, Mark Anthony To See or Not To See: Landscape Change and the (Lack of) Avian Presence in Central Ohio Vineyards
THURSDAY, MARCH 21
Podium
(TH-32) 1:30–3:30, Broadway I: Anthropology OF/AS/AND Activism, Part I: Anthropology OF Activism (ExtrACTION & Environment TIG)
                Chair: Anna Willow
WILLOW, Anna:  All I Can Do: Why Activists (and Anthropologists) Act
(TH-92) 1:30–3:30  Broadway I: Anthropology OF/AS/AND Activism, Part II: Anthropology AS Activism (ExtrACTION & Environment TIG)
                Chair: Kelly Yotebieng
YOTEBIENG, Kelly: We Are Tired of Telling Our Stories: How to More Actively Engage in Activism and Policy Change in Anthropology
 (TH-155) 5:30–7:20, Broadway IV: Food Insecurity
FORCONE, Tannya, Samadi, Karima, and SweeneySWEENEY, Glennon: Avenues for Change: the FEAST Methods for Understanding the Lived Experience of Food Insecurity on Columbus' South Side
FRIDAY, MARCH 22
Podium
(F-06) 8am–9:50, Pavillion East. Social and Public Health Movements on Parenting
SHAIN, Rachel, FARLEY, Taylor PIPERATA, Barbara A, B, or C: How Uncompromising Public Health Messaging on Safe Infant Sleep is Renegotiated in the Home
(F-47) 10am–11:50, Council Suite. Dimensons of the Global and Local Narco-Environments, Part II (PESO)
MCSWEENEY, Kendra "It's Just too political": The U.S. Conservation Community and the Environmental Impacts of the U.S. War on Drugs
(F-50) 10am–11:50 Forum Suite: Theory and Approaches to Understanding Coupled Human and Natural Systems, Part II
MORTIZ, Mark, GARCIA, Victoria, BUFFINGTON, Abigail, AHMADOU, Mouadjamou Pastoralist Refugee Crisis Tests the Resilience of Open Property Regime in the Logone Floodplain, Cameroon
 
​Poster
(F-101) 1:30–4:00, Grand Ballroom Posters
COHEN, Jefrey and PEI, Shengyu Food Choices and Food Security: Local Tastes and National Holidays in China
RHUE, Steven and SERGEEV, Alexander Reviewing the Status and Threat of Poliomyelitis During a Time of Scheduled Eradication
SUTTON, Frances and COHEN, Jeffrey H. Football Fandom among Muslim American Women in Wayne County, MI
SATURDAY, MARCH 23
Podium
(S-39) 10:am–11:50, Galleria II: Designs for Teaching Other Worlds (Higher Education TIG)
KAWA, Nick, Lipschitz, Forbes, and Rance, Logan. Collaborative Design for Teaching about the Use of Human "Waste" as an Agricultural Resource for the American Midwest.
---
44th Annual Meeting of the Human Biological Association (HBA): March 26–29, 2019. Cleveland, Ohio
"The Human Biology Association is a vibrant nonprofit scientific organization dedicated to supporting and disseminating innovative research and teaching on human biological variation in evolutionary, social, historical, and environmental context worldwide. We are an interdisciplinary group of scientists including internationally-recognized leaders in the fields of anthropology, anatomy, public health, endocrinology, genetics, nutrition, and numerous other fields." – humbio.org
WEDNESAY, MARCH 26
Poster 
8am–11am, Conference Center, Ballroom AB. Poster Presentations
TUGGLE, Alex, COHEN, Jeffrey H and CREWS Douglas E. Re-envisioning migrant health: exploring risk factors and the moderating role of narratives on migrant allostatic load.
PIPERATA, Barbara A. LEE, J., LEE, S., MAYTA, A., CARY, Addy, Oruganti, P. GARABED, R., WILSON, W. Exploring the relationship between water insecurity and the composition and diversity of the gut microbiome of rural Nicaraguan children.
THURSDAY, MARCH 27
Podium
3:15–4:30, Hilton Superior A Inequalities and health across the lifespan
3:45: SCHMEER, KK., DeCARO, J., PIPERATA, Barbra, HOEHN, N., BROWN, G. and WILSON W Maternal distress and child inflammation in a high poverty setting
FRIDAY, MARCH 29
Podium
8:30–11:30, Hilton Superior A FLASH TALKS: Innovations in Human Biology
8:30-9:45 EDES, Ashely and CREWS, Douglas E. Do inflammatory markers predict heart disease and mortality in gorillas as they do in humans?
---
88th Annual Meeting of the American Association of Physical Anthropologists. March 27–30, 2019, Cleveland, Ohio.
"Physical anthropology is a biological science that deals with the adaptations, variability, and evolution of human beings and their living and fossil relatives. Because it studies human biology in the context of human culture and behavior, physical anthropology is also a social science. The AAPA is the world's leading professional organization for physical anthropologists. Formed by 83 charter members in 1930, the AAPA now has an international membership of over 2,200. The Association's annual meetings draw more than two thousand scientists and students from all over the world." –physanth.org
THURSDAY, MARCH 28
Poster (All Day)
1:30 Even number presenters stand by their poster (1 hour)
6:00 Odd number presenters stand by their posters (1 hour)
Session 1: CC Ballroom BC. Primate Behavior
26. ADAMS, Dara B. and KITCHEN, Dawn M. The impact of sensory mode on anti-predator responses of Rylands' bald-faced saki monkeys (Pithecia rylandsi) in Peru.
Session 2: CC Ballroom BC Primate Diet and Behavior
11. GEHERTY, J. and McGRAW, W. Scott Oral processing behaviors of captive mandrills (Mandrillus sphinx) at the Columbus Zoo
Session 3: CC Ballroom BC Bone Biology
1. RAPOFF, A.J., McGRAW, W. Scott, DAEGLING, D.J. Spatial auto correlation of bone material stiffness and its implications for skeletal toughness.
Session 5: CC Ballroom BC Hominin Environments, Diet, and Behavior
14. FANNIN, Luke, GUATELLI-STEINBERG, Debbie, GEISSLER, Elise, CONSTANTINO, Paul, McGRAW, Scott. Frequency of enamel chipping in Tai Forest cercopithecids: Implications for dietary reconstruction in paleoanthropological contexts.
Session 6: CC Ballroom BC Bioarchaeology: Methods and Techniques
7. STEWART, Marissa C. and VERCELLOTTI, Guiseppe. Identifying and Interpreting Unexpected Spatial Patterns of Bioarchaeological Data Using Geographic Information Systems.
14. MAYUS, Rebecca and AGNEW, Amanda M. Preliminary Investigation of Aging Effects on Cross-Sectional Geometric Properties of Adult Ribs in a Medieval Polish and Modern Skeletal sample.
Session 8: CC Ballroom BC Bioarchaeology: Diet, Migration, and Identity
15. McGUIRE, Sara. Living in the Dust and Smog: Identity, Inequality, and Mortality During England's Industrial Revolution.
22. RUSSELL, C. Kinley, RUFF, Christopher B., and LARSEN, Clark Spencer. Reconstructing Mobility and Workload in Guale Populations from the Georgia Coast.
Invited Posters
Session 13 (8AM–noon): CC Room 22. Anthroengineering:  a biological approach. Invited Poster Symposium
7. GEISSLER, Elise, McGRAW, W. Scott, and DAEGLING, David J. Dentine hardness distribution and chewing frequency in two sympatric colobines.
12. LAD, Susan E., McGRAW, Scott, and DAEGLING, David J. Bone remodeling in the macaque (Macaca fascularis) skeleton: effects of loading frequency and magnitude.
Session 22 (2:30–6PM): CC Room 23 Recent Advancements in the Analysis of Bone Microstructure: Invited Poster Symposium
1. COLE, Mary E., STOUT, Samuel D., and AGNEW, Amanda M. Image processing techniques for extracting complex three-dimensional cortical pore networks from high-resolution micro-computed tomography (micro-CT) images of the human femoral neck and rib.
FRIDAY, MARCH 29
Podium
Session 32: CC Room 25 Hominin Fossils and Evolution.
10:30 O'HARA, Mackie, SKINNER, Matthew M., GUATELLI-STEINBERG, Debbie. Comparative two-dimensional relative enamel thickness (RET) of South African hominin premolars
Poster (All Day)
1:30 Even number presenters stand by their poster (1 hour)
6:00 Odd number presenters stand by their posters (1 hour)
Session 24: CC Ballroom BC Dental Anthropology: Variation, Disease, and Diet
17. BETZ, Barbara, O'HARA, Mackie, and OLDERSHAW, Leigh. Assessing striae of Retzius periodicity nondestructively using perikamata counts and distribution in two new populations.
24. BLANKENSHIP-SEFCZEK, Erin. Presence of Lingual Cuspule and paraconid on one Archaic period individual from the Ohio Valley.
39. LAGAN, Emma M., COOK, Robert A., and HUBBE, Mark. Corn, Culture, and Caries: A Temporal Study of Carious Lesions on the Mississippi Peripery
Session 25: CC Ballroom BC Human Biology
29. RITCHIE-EWING, Genevieve T. and PIPERATA, Barbara. How conflicting messages during pregnancy affect U.S. women's self-reported and biological stress.
Invited Posters
Session 43 (2:30–5:30): CC Room 23 From Pedestrian to Cerebral in the Pleistocene: A Symposium in Honor of Erik Trinkhaus. Invited Poster Symposium
4. GUATELLI-STEINBERG, Debbie, CALHOUN, Grace and HUBBE, Mark Another look at canine variation in Neanderthals
Session 44 (2:30–5:30): CC Room 24 Biological Anthropology of Brazilian populations–past and present. Invited Poster Symposium
                DISCUSSANT: CREWS, Douglas
4. SPENCE, Jennifer, GUATELLI-STEINBERG, DEBBIE, PIPERATA, Barbara, FLOYD, Bruce, and SILVA, Hilton. Infant condition and the timing of deciduous tooth emergence in the Brazilian Amazon
7. DA-GLORIA, Pedro, PIPERATA, Barbara, HOFFMAN, Christian, SIMIONATTO, Maria Regina, OLIVEIERA, Rodrigo, and NOGUEIRA, Fernando N. Oral Health in a rural population of the Brazilian Amazon: Implications for interpretation of dental caries in the past.
9. WRIGHT, Harold M., SHEPARD, Glenn H., and PIPERATA, Barbara A. Sedentism and Dietary Variation among the semi-nomadic Naduhup of the Northwest Amazon.
SATURDAY, MARCH 30
Podium
Session 56: CC Room 26 Bioarchaeology and Forensic Anthropology: Shared Applications
8:00 CLARK, Melissa, SIMON, Allyson and HUBBE, Mark Aging Methods and Population Structures: Does Transition Analysis Call for a Re-examination of Data?
Session 59: CC Room 25 Primate Behavior and Ecology
3:30 EDES, Ashley N., WOLFE, Barbara A., and CREWS, Douglas E. Health outcomes associated with higher allostatic load in zoo-housed Western Lowland Gorillas (Gorrilla gorilla gorilla)
Poster (all day)
1:30 Even number presenters stand by their poster (1 hour)
6:00 Odd number presenters stand by their posters (1 hour)
Session 46: CC Ballroom BC Education in Biological Anthropology
6. ZNIDARSIC, Katherine A., EDES, Ashley N., AL-KANDARI, Yagoub, and CREWS, Douglas E. Among elderly Kuwaitis social support buffers functional and physiological dysregulation
Session 47: CC Ballroom BC Primate Craniodental Anatomy
18. OLDERSHAW, Leigh, O'HARA, Mackie, GUATELLI-STEINBERG, Debbie, and McGRAW, Scott. Variation in enamel formation front angels and enamel thickness in anterior and posterior cercopithecoid teeth.
23. CALHOUN, Grace, LAGAN Emma M., GUATELLI-STEINBERG, Debbie, MORSE, Paul E. and McGRAW, W. SCOTT Dental macrowear, diet and anterior tooth use in Piliocolobus badius and Colobus polykomos
29. HERRERA, Brianne, HUBBE, Mark Correlations between Cranial Morphometric Variation and Climate in western South America
Session 50: CC Ballroom BC Paleopathology
10. TURNER-BYFIELD, Evonne Comparative Analysis of the Health of Free Blacks in Northeast, South and Southwest
21. MARGOLIS, Julie Anna, UBBE Mark, and QUINN, Melissa M. Diagnosing SAPHO syndrome in human remains
27. HORBALY, Haley E. and HUBBE, Mark The influence of occupation, habitual activity, and SES on osteometric variation in modern humans
30. LARSEN, Clark S., STECKEL, Richard H, ROBERTS, Charlotte A., and BATEN, Joerg  Introduction and Major Findings: The Backbone of Europe: Health Diet, Work, and Violence over Two Millennia
Session 52: CC Ballroom BC. Skeletal Biology: Human Variation
19. ALBEE, Malorie Osteological development of the foot during the Medieval to Post-Medieval Transition
---
Biennial Meeting for the Society for Psychological Anthropology (SPA): April 4-7, 2019. Santa Ana Pueblo, New Mexico.
"The Society for Psychological Anthropology (SPA) of the American Anthropological Association was founded in 1977. SPA is a broad, multidisciplinary organization of individuals interested in cultural, psychological, and social interrelations at all levels." - spa.americananthro.org 
FRIDAY, APRIL 5
3:15-5pm. Dreaming of a better future: Anthropological explorations of aspiration in migratory journeys 
ZOTOVA, Natalia Dreaming big: aspirations of Central Asian Muslim immigrants as a pathway toward greater wellbeing. 
---
84th Annual Meeting for the Society for American Archaeology: April 10–14, 2019. Albequerque, New Mexio
"The mission of the SAA is to expand understanding and appreciation of humanity's past as achieved through systematic investigation of the archaeological record. The society leads the archaeological community by promoting research, stewardship of archaeological resources, public and professional education, and the dissemination of knowledge. To serve the public interest, SAA seeks the widest possible engagement with all segments of society, including governments, educators, and indigenous peoples, in advancing knowledge and enhancing awareness of the past." –saa.org
THURSDAY, APRIL 11
Podium
[70] 25 Navajo. Complex Fisher-Hunter-Gatherers of North America
2:30pm  SANGER, Matthew, HILL, Mark, LATTANZI, Gregory, and PADGETT, Brian Networks of Exchange in the Late Archaic Southeast: Copper and Crematory Practices
FRIDAY, APRIL 12
Podium
[232] 21 Jemez. Farm to Table Archaeology: The Operational Chain of Food Production
1:30pm BUFFINGTON, Abigail Grasses are Always Greener: The Technology of Herding and Mobility among Neolithic Pastoralists in South Arabia
[275] 21 Jemez. Neolithic Archaeology in Europe and the Mediterranean
4:45pm YERKES, Richard Were Neolithic and Late Prehistoric Fortifications a Deterrent to Escalating Conflicts in Early Agricultural Societies in Temperate Europe and Eastern North America?   
Poster
[168] 8am–10am, La Sala Archaeology of Woodland, Mississippian, and Related Traditions
168-e HINKLEMAN, Sarah, and COOK, Robert From Formal to Efficient: Variation in Projectile Point Manufacture and Morphology from the Late Woodland to Fort Ancient Period in the Middle Ohio River Valley
SATURDAY, APRIL 13
Podium
[310] 27 Picuris The State of the Art in Medieval European Archaeology: New Discoveries, Future Directions
8:30am WILLIAMS, Leslie and WEINRICH, Kendra Daily Lives in Early Medieval Bavaria: Degenerative Joint Disease in the Carolingian Altenerding, Germany
[348] 16 Acoma Migration and Climate Change: The Spread of Mississippian Culture
                Chairs: COOK, Robert and COMSTOCK, Aaron
2:30pm COOK, Robert A and COMSTOCK, Aaron. Migration and Ethnic Hybridity: Examining the Middle Ohio Valley Mississippian Periphery 
SUNDAY, APRIL 14
Podium
[408] 120 Dona Ana Geospatial Studies in the Archaeology of Ocenia
8:00am FIELD, Julie, DUDGEON, John, ROOS, Christopher, COMMENDADOR, Amy S, HAZARD, Rebecca. Push and Pull, Part II: Modeling the Inland Exploration and Settlement of Fiji   
8:15am RIORDAN, Kyle, and FIELD, Julie Ancestral Pathways of Fiji: Using GIS to Analyze Landscapes of Movement and Lineages within the Sigatoka River Valley 
9:30am SHAPIRO, Craig Navigating Public LiDAR in Samoa
10:15am DUDGEON, John, HAZARD, Rebecca, FIELD, Julie, ROOS, Christopher, COMMENDADOR, Amy S. Three-dimensional Spatial Evidence of the Development of Agriculture in the Sigatoka River System, Viti Levu, Fiji
[419] 235 Mesilla Current Research on Turkey (Meleagris Galopavo) Domestication, Husbandry, and Management in North America and Beyond
9:00am MENDEL, Catherine, GRIMSTEAD, Deanna COLTRAIN, Joan, McCAFFERY, Harian, RAWLINGS, Tiffany. Persistence in Turkey Husbandry Practices in the Southwest and Four Corners Region: The Isotopic and Ethnohistorical Evidence
10:15 PEART, Daniel, GRIMSTEAD, Deanna, and MENDEL, Catherine There and Back Again: A Foragers-Farmers Model of Turkey Domestication (Part I)
---
Other:
International Open Workshop 2019: Socio-Envrionmental Dynamics Over the Last 15,000 Years, The Creation of Landscapes VI. Kiel University March 11–15, 2019
YERKES, Richard W. DUFFY, Paul R., PARKINSON, William A. and GYUCHA, Atilla. Origins of households at Neolithic and Bronze Age tell settlement complexes on the Great Hungarian Plain
News Filters:
---