December 15, 2021
Congratulations, Emma Lagan!
Image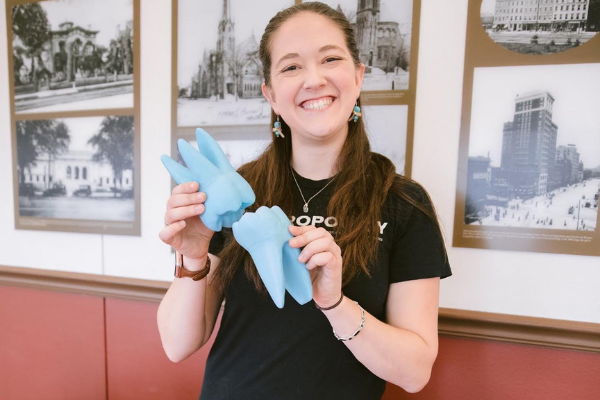 Description
Congratulations doctoral candidate Emma Lagan for being named one of the Graduate School's 2021-2022 Presidential Fellows! This award recognizes the outstanding scholarly accomplishments and potential of graduate students entering the final phase of their dissertation research. 
Learn more about Emma's project, "Gastropolitics in Emerging Societies: An Analysis of Diet and Social Status in the Late Prehistoric Middle Ohio River Valley" in the abstract below:
Food—particularly its social availability, exchange, and consumption—constitutes an important aspect of the construction and maintenance of social structures. A concept known as "gastropolitics" serves as a lens for evaluating the social structure of past societies via dietary data. Gastropolitics particularly aids in examining societies with emerging complexity, which lack archaeological correlates of social status. In these instances, dietary data collected from skeletal remains, in conjunction with archaeological and ethnographic data, provide a basis for elucidating connections between food consumption, food distribution, and social inequality.
Using a gastropolitical framework, this dissertation examines inequality at Turpin, an Early Fort Ancient (c.1000-1300 CE) site in Ohio. The central question is whether status differences at the incipient level of emerging complexity exhibited by Fort Ancient cultures have discernible impacts on the diets of individuals. Dietary data, in the form of dental wear (Dental Microwear Texture Analysis, Occlusal Fingerprint Analysis), and isotopes have been collected for 69 burials at Turpin. These data provide both short and long term dietary information for individuals. To examine social inequalities, diet is analyzed along hypothesized differences in social status (e.g. male vs female, young-adult vs Elder). Individuals with higher status are expected to have dietary signatures reflecting greater meat consumption and less maize than those of lower status. Interviews with members of descendent tribes will be conducted to understand the role of food and social networking in contemporary Native American society.
Limited research has been conducted on the social structures of Fort Ancient societies, making this the first study that systematically explores whether disparities in diet and oral health exist during a period of emerging societal complexity. Even fewer studies contextualize dietary results with ethnographic data from contemporary descendants. This study answers two calls in bioarchaeology: first, to decolonize research through inclusive methods, and second, to provide new methods of analysis to evaluate status in the archaeological record. With its gastropolitical approach and comprehensive dataset, this dissertation will elucidate previously understudied social dynamics in Fort Ancient societies and serve as a model for future bioarchaeological studies.
News Filters:
---