April 8, 2023
Drs. Julie Field (PI) and Joy McCorriston (Co-PI) Awarded NSF Grant
Image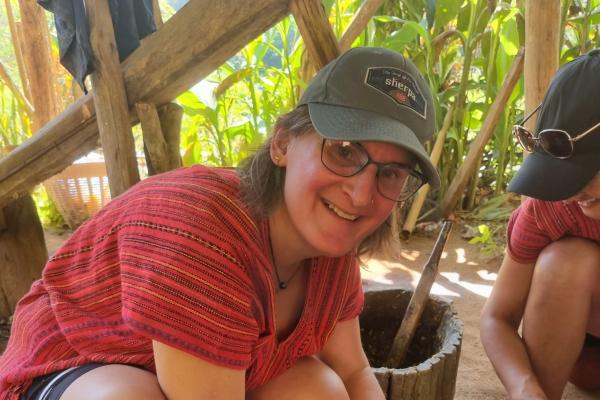 Description
Congratulations to Drs. Julie Field (PI), Kiana Frank (Co-PI), Scott Fischer (Co-PI), and Joy McCorriston (Co-PI) on their NSF funded research project: Collaborative Research: Management Practices and Microbial Communities in Prehistoric Hawaiian Aquaculture.
Research will begin this summer with a team of indigenous Hawaiians, academics, graduate students, and undergraduates.
This grant will fund two years of research that seeks to document the archaeological, microbial, and paleocological history of Kapoho, an ancient fishpond located at Waiheʻe, on the Island of Maui.  This research is collaborative with scholars from the University of Hawaiʻi and the Hawaiʻi Land Trust, and will be located within the Waiheʻe Coastal Dunes and Wetlands Refuge, which was once the site of the ancient villages of Kapoho and Kapokea. Nearby Kapoho fishpond was a vital connection between the fringing reef and the valley stream, and was used to produce taro and fish for over 500 years. The fishpond is in the process of being restored, and these efforts are part of a larger movement to rebuild resiliency and food sovereignty in Hawaiʻi. Dr. Field and her colleagues' research seeks to understand the management practices of Hawaiian farmers, who used knowledge and innovative practices to support microbes, fish, and plants. The project will utilize geoarchaeological and zooarchaeological analysis coupled with radiocarbon dating and the genetic analysis of microbes to identify particular practices and outcomes in the past. The project also seeks to build community partnership and will fund internships for Maui residents, have workdays dedicated to indigenous Hawaiian (Kānaka Maoli) science. The results of the archaeological and microbial research will be integrated into resiliency plans dedicated to maintaining the fishpond and the refuge ecosystem.  
This project was funded by the National Science Foundation Division of Behavioral and Cognitive Sciences.
News Filters:
---