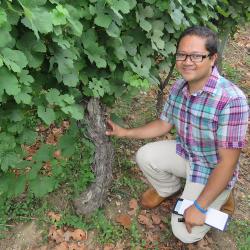 Mark Anthony Arceño is one of 20 recipients of the Chateaubriand
Humanities and Social Sciences fellowship
, which is sponsored by the Cultural Services of the Embassy of France in the U.S. The fellowship funds doctoral students at universities in the United States to conduct research in France for a period of 4-8 months. Of the 20 recipients, Mark Anthony is one of six whose research is further distinguished by French President Emmanuel Macron's "
Make the Planet Great Again
" initiative. The initiative, launched June 2017, invited researchers from around the world to conduct research on climate change in France.
Mark Anthony's research, "A Year in the Fields: Walking and Talking with Winegrowers about Terroir, Place-Based Identity, and Environmental Change in Ohio, USA, and Alsace, France," compares how winegrowers in Ohio and Alsace perceive changes in their winegrowing landscapes, how they adapt to changes in winegrowing conditions, and how changes in winegrowing practices change conceptions of terroir. (Terroir, more or less, refers to the combination of environmental and social factors that contribute to the distinctive qualities and tastes in a given product, such as wine.) In order to understand these themes, Mark Anthony conducts interviews with winegrowers and, whenever possible, also works alongside them in their vineyards, wine cellars, and tasting rooms. In so doing, Mark Anthony's data allow him to analyze how culture, human-nature relationships, and the goût du terroir (in English, the "taste of place") change as environments change.

The Chateaubriand Fellowship will support the third phase of Mark Anthony's research in France from January-April 2019. He will return to Colmar, Alsace (eastern France), where he is based at the Institut National de la Recherche Agronomique (INRA).