Anthropology Students Learn About Columbus' Latino Communities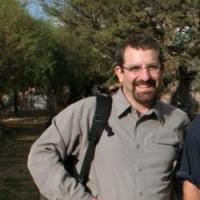 This summer, nine students had the opportunity to participate in the Department of Anthropology's "Ethnoscapes Columbus" project, working in Columbus' Latino communities to learn about the communities' cultural and economic practices. The project was organized and facilitated by Anthropology Professor Jeffrey Cohen. "It's important to ask residents in the Latino community questions about their concerns, their economic situation and how they view the positive qualities of their neighborhoods," said Sarah Gray, one of the student participants. "We need to let the wider community know what is happening." You can read more about this research with OSU undergraduate students at this link.
Anthropology Alumna Follows Her Research Passion Up North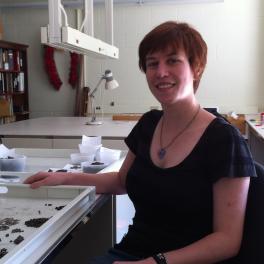 "For me, archaeology provides a unique avenue for understanding, exploration, and continual intrigue into the daily lives of past peoples. It is a rare field which draws and combines aspects of many schools of thought, skills, and views. It draws on not just one moment of a place or time, but pulls all of these moments together to form a continual spectrum of humankind. I want to understand the connections forged between the peoples of the past and how this shaped the realities of present day peoples. It is my hope to work towards this goal by continuing my education and obtaining my doctorate at the University of Michigan." To read more about OSU Alumna Kimi Swisher's experience in Anthropology at OSU, follow this link.
Undergraduate Conducts Ethnographic Study of Education and Status Among Muslim Women in Old City Hyderabad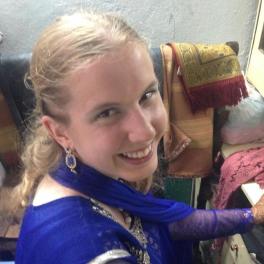 "I studied abroad in Hyderabad during spring semester 2013 and became interested in the everyday lives of women living in Old City. A lot of discourse around Muslim women, especially in the West, focuses on their oppression and portrays them as perpetual victims. Instead of buying into that narrative, I wanted to find out the actual circumstances, beliefs, and attitudes of these women, and I wanted to learn more about how they are creating change in their own communities. Because educational access is one way to measure women's status and access to opportunities, I decided to use that metric." To read more about OSU Undergraduate student Emily Schueller and her anthropological research in India, follow this link.
Undergraduate Gets Her Hands Dirty in Italy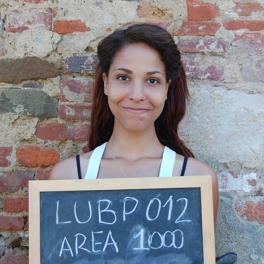 Until last summer, fieldwork and experience in archaeological methodology eluded Jones – she had never been outside the United States. However, through the generosity of Ohio State alumnus Keith Monda and his wife Linda (watch video), Jones was awarded a Keith and Linda Monda International Experience Scholarship to study abroad at The Field School in Medieval Archaeology and Bioarchaeology at Badia Pozzeveri over the summer of 2012. "I was ecstatic about the possibility of participating in the bioarchaeology field school at Badia Pozzeveri," said Jones. "As a student studying anthropology and medieval history, being involved in an actual excavation of a medieval site is probably the greatest opportunity you could ask for." To read more about Meagan Jones' experience excavating in Italy, follow this link.
Amy's Other Family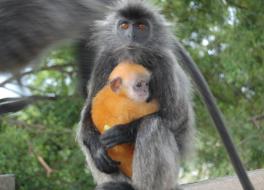 For the last two years, Amy has been watching and documenting positional behavior of monkeys – how they arrange their limbs and how they move in their environment – in order to better understand primate history and habitat requirements. At the American Primate Educational Sanctuary in Blacklick, Ohio, Amy watches over 10 Gibbons, 2 Capuchins, and 1 Marmoset. When she is not at the sanctuary, Amy is at the Columbus Zoo and Aquarium observing Silvered Langurs as they leap from tree to tree.  Her laptop is filled with images of monkeys and, yes, she can readily identify one from another. To read more about Amy Eakin's study of primate behavior, follow this link.