What is Anthropology?
Anthropology is the study of the biology, society, and culture of humans and their nearest biological relatives, in all times and in all places.  Anthropology at the Ohio State University spans three of the major sub-disciplines of anthropology: cultural anthropology, archaeology, and biological anthropology.  Graduates that major in anthropology go on to diverse careers, such as working for state and local governments, teaching, public health and medicine, social work, publishing, marketing, environmental sciences, biological conservation and many others. At Ohio State University, undergraduates take courses and undertake research with faculty who share interests in food and foodways, dietary adaptation, evolution of diet, ecology, and health.  Half of the faculty have interests in the origins, evolution, and intensification of plant and animal domestication and production, and most have interests in sustainability and health and well-being.
Majoring in Anthropology, Anthropological Sciences, or Medical Anthropology
The Department of Anthropology offers four baccalaureate degrees – a Bachelor of Arts in Anthropology, a Bachelor of Science in Anthropological Sciences, a Bachelor of Arts in Medical Anthropology, a Bachelor of Science in Medical Anthropological. Since its introduction, the number of Anthropological Sciences majors increased from 23% in Autumn 2006 to 43% in 2014. This growth reflects an increase in STEM-related programs since 2006, both in the Department of Anthropology and in the college and university generally. 30 credit hours are required for the BA in Anthropology; 36 are required for the BS. Both majors require that undergraduates complete courses in physical anthropology, cultural anthropology, and archaeology. More information about the course requirements for these majors is provided in the links to the right.
The goal of the majors is to prepare students for employment that combines critical thinking, communication, and analytical skills with an understanding of human diversity in both time and space. This entails that students will be able to do the following:
develop the ability to critically read and interpret the anthropological literature
present anthropological information in a clear and logical manner, both orally and in writing
apply knowledge of anthropological data, methods and theory to understand human diversity
develop the capacity to analyze differences in culture (including material culture)
develop an understanding of where the human species (Homo sapiens) is positioned in the natural world
apply knowledge of modern applications from archaeology, ethnography, forensic science, and morphometrics to find solutions to a variety of anthropological problems
students in the Anthropological Science major are expected to develop an understanding of mathematical and statistical methods and evolutionary theory.
Minoring in Anthropology
A minimum of 15 credit hours (5 courses) are required to minor in anthropology. The student may complete a minor by choosing the archaeology, cultural anthropology, physical anthropology, or forensic science track. 
Undergraduate Research
There are many opportunities for undergraduates to participate in anthropological research at Ohio State. In the past, students have conducted studies of cattle herders in Cameroon, investigated markets in urban areas of the US, excavated archaeological sites in Ohio and Italy, and analyzed medieval European skeletons for the presence of particular diseases. Read more about undergraduate research achievements and their participation in the Denman Undergraduate Research Forum, a campus-wide annual event presenting research posters. Anthropology undergraduates have a strong presence at this event, and regularly receive awards. For example, in 2013-2014, three anthropology students won the respective first, second, and third place awards in the category of Social and Behavioral Sciences. 
Meet our Undergraduates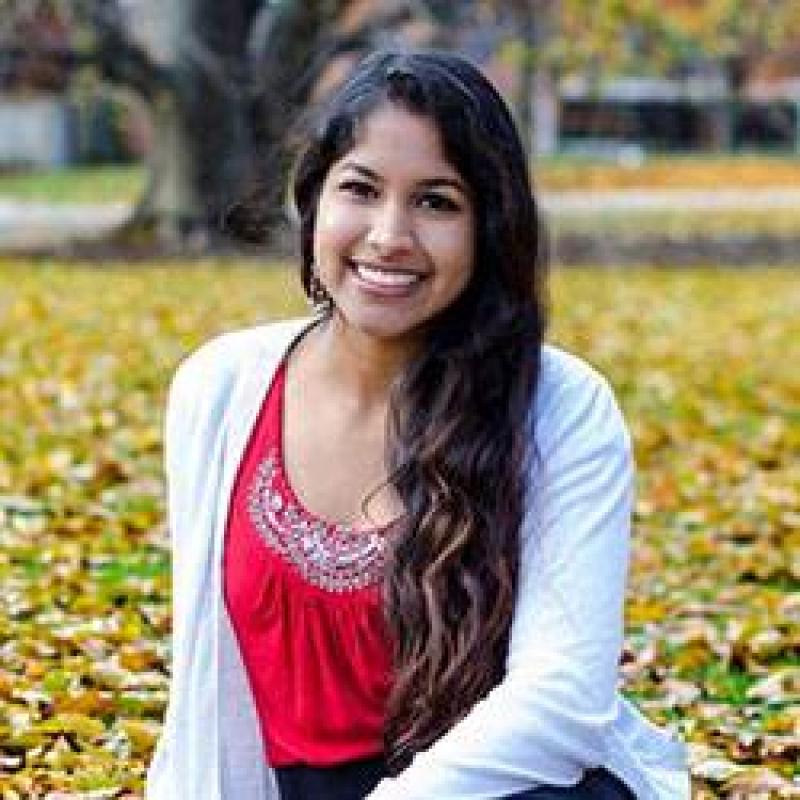 Pallavi Oruganti
B.S. Anthropological Sciences, Animal Pre-Veterinary Medicine Minor, The Ohio State University, 2016
 
Why did you choose Ohio State?
I recently found an essay I wrote in 8th grade where I said my dream was to attend Ohio State, so I guess that has always been a goal of mine! When I finally applied to and visited OSU I knew I was in the right place. I think every student has had that moment when they realize they're just at home on campus. That connection aside, I knew I would flourish academically at Ohio State with the diversity of departments that fit my various interests. I was interested in both veterinary medicine and social sciences coming into college, and I knew no matter what path I was to ultimately choose I would have endless support and resources here at Ohio State. 
Why major in anthropology at Ohio State?
I chose to major in Anthropology at Ohio State because I wanted to gain a unique perspective during my undergraduate education that I knew I would not have the chance to really explore later in life. I have always been interested in learning about different cultures and groups of people around the world and the evolution of humans throughout time. The major in anthropological sciences really has given me such a holistic perspective on human history, biology, and behavior that I would not have been able to get in another discipline or major. In Ohio State's anthropology program you have the opportunity to take courses from 3 main sub-fields of anthropology (cultural, physical, and archaeology). You're not only able to see what area you are most interested in, but you're also able to take very varied classes within just one major and understand the breadth of the discipline. You're able to make those connections across the sub-fields within anthropology, but also to other courses you may be taking outside the major. A degree in anthropology really rounds out your education and exposes you to new perspectives and ways of thinking. 
How do you feel that you're experience doing an undergraduate research project will prepare you for graduate school?
Doing undergraduate research has prepared me for graduate school in so many ways. First, it helped me narrow what field I want to do my graduate studies in, and helped me define some of my ultimate career goals. I've had such amazing research mentors, and those mentors have been with me every step of the way to help me reach my goals and gain so many vital skills. These skills I've gained from doing research including field research, academic literature research, grant and proposal writing, speaking skills, and more are all what will be critical for success in graduate school. Doing independent undergraduate research here at OSU has really pushed me to work harder and pursue my passions, and this is what I will take with me as I graduate from OSU this spring. 
What advice would you give students who are considering coming to Ohio State to major in anthropology?
If you're at all interested in Anthropology at Ohio State, I would say go for it and explore that interest. If you don't want to declare it as your major right away, take an introductory course in anthropology and see if it fits your personal goals and interests. I was scared at first to major in anthropology because I didn't want to ultimately work as an anthropologist specifically or go to graduate school for anthropology. The beauty of anthropology, however, is that it goes beyond just the discipline. Anthropology is really more of an approach or perspective that can be applied to a wide range of topics. For example, I never thought that  anthropology and veterinary medicine could be related, and was excited there was work being conducted at OSU connecting these two fields. No matter what field you want to work in ultimately, anthropology can give you a different and broader perspective on that field. Whether you want to go to medical school, work in business, or maybe even get that graduate degree in anthropology itself, the undergraduate anthropology program here at Ohio State fosters a greater understanding of the world and prepares you for your future career no matter the field.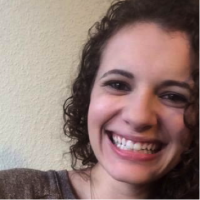 Heather Glenn Willey
Mst Archaeology
Archaeological Institute, University of Oxford
 
Why did you choose Ohio State for your undergraduate education?
Well, I'm from Ohio so I had heard about OSU my whole life and when I toured campus, I fell in love with it.  It was close enough to home that I could come back for the holidays but far enough away that I wouldn't be tempted to come home for weekends; I hoped it would be a nice transition to being more independent. But I think the most important thing for me was that I came in as an undecided major and OSU had so many majors to choose from and try out that I thought it was the best option for me.  It was such a big school, it had to have something that interested me.
Why did you choose anthropology as your major when you attended Ohio State?
I've always been really interested in history and telling stories.  Majoring in Anthropological Sciences gave me the opportunity to study history while actually excavating pieces of the past and having an active role in filling in the missing pieces of the stories that could be told by the artifacts.  I've also always adored museums, ever since I was a kid, and one day it just kind of clicked that I could make that interest into a career.
How do you feel that your experience participating in the excavation team at Badia Pozziveri in 2014 prepared you for your graduate studies at Oxford?
Going to Italy as part of the excavation team really gave me the confidence and independence I needed to consider applying to graduate school in a foreign country.  Spending three months away from family and friends while working hard made me realize that some of the best opportunities require stepping outside of your comfort zone.  The hands on experience I got from participating in the excavations at Badia Pozziveri has helped me understand not just the scholarship in my field, but the process that goes into finding, preserving, and interpreting the materials and artifacts dissertations and research projects are based on.
When will you receive your master's degree in archaeology from Oxford?
June 2016
What are your future plans after you receive your PhD?
If I get into the PhD program at Oxford (it's actually called a Dphil here) (fingers crossed) and I complete it I hope to come back to the states and become a curator for a museum, preferably somewhere like the Field Museum, the Smithsonian, or the Met.  My studies now are based on maritime archaeology, so shipwrecks, maritime cultures, islands, and sunken cities, so hopefully I will be able to do something that I can apply that interest as well.
Why did you decide to minor in history with a focus in Medieval Europe?
I chose the Medieval Europe History minor because after the excavation of a 13th century monastery I did in Ireland I wanted to learn more about what I had been excavating.  I wanted to know more about the historical context of the artifacts and burials.  After the first class, I got hooked.  Now, I'm hoping to include a medieval British Isles aspect to my DPhil thesis.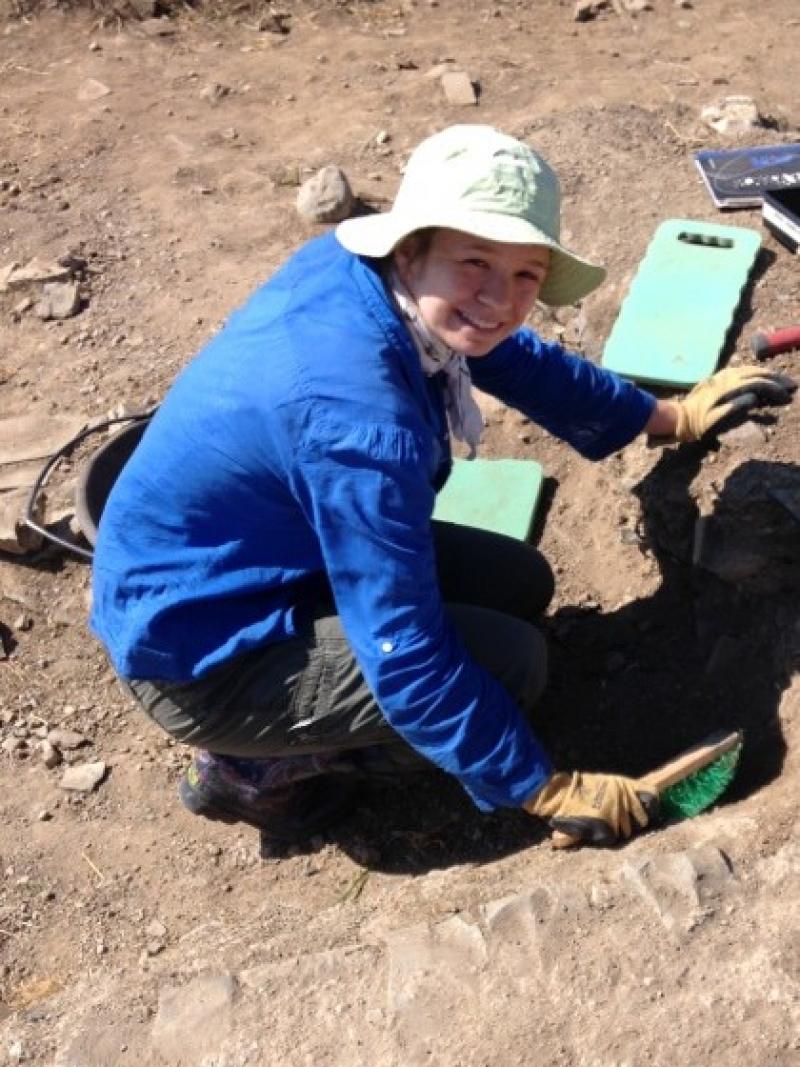 Mary Grace Thibault
B.S in Atmospheric Sciences and B.A. in Anthropology
The Ohio State University 2017
What interests you about anthropology? 
My interest in anthropology actually stems from my interest in weather.  I entered OSU as a major in atmospheric science, and then later I added in anthropology as my second major.  I first became interested in anthropology when I took a class called the Prehistory of Environment and Climate, which is taught by Professor Richard Yerkes.  This class focused on the climatological phenomenon El Niño and how it affected the rise and fall of various civilizations such as the Mayans and the Egyptians.  The paleoclimatological techniques used to derive evidence for such occurrences piqued my curiosity, and I remained quite interested in anthropology and paleoclimatology as a result.  During the fall of my sophomore year, I realized that I had room in my schedule for a second major, and so I decided that anthropology was a natural secondary field of study since people and weather are indelibly linked.
What research did you participate in overseas?
I was very fortunate to have participated in the 2016 May Session study abroad called the History and Archaeology of Medieval Ireland: Trim and the Blackfriary.  The focus of this study tour was to introduce the students to the monastic history of Ireland.  The first week of the program, my class was taken on tours to castles, abbeys, and ancient monuments.  The sites were incredible given their beauty and the very fact that they had survived so many hundreds of years!  The last three weeks of the dig focused on exposing the class to archaeological field methodology.  We worked with the Irish Archaeology Field School at their site in Trim, Ireland, which is the location of the ruins of a medieval monastery known as the Blackfriary.  We learned excavation techniques, helped to excavate medieval layers, and learned how to process finds and samples in post-ex. 
How has that research influenced your interest in majoring in anthropology?
The experience of unearthing objects that have not been seen in about three hundred years is very humbling.  Excavation emphasizes the humanity that is represented in those layers of dirt.  As artifacts are unearthed, you start imagining someone using them and never dreaming that a small piece of their cracked cooking pot would cause such a stir three hundred years after they threw it away.  The experience increased my interest in archaeology and anthropology in general, and I would love to continue exploring anthropological avenues, particularly focusing on archaeology and related areas.
What are your plans for after graduation?  Will it involve anthropology?
I will be graduating in spring of 2017 with a B.S. degree in Atmospheric Science and Anthropology.  As I mentioned, I am very interested in the intersection between people and climate and weather.  With this in mind, I am interested in possibly pursuing a masters degree in paleoclimatology or in careers with the National Weather Service, NOAA, or some organization in which my combination of interests would be applicable.