March 17, 2020
Graduate Students participated in Hayes Research Forum
Image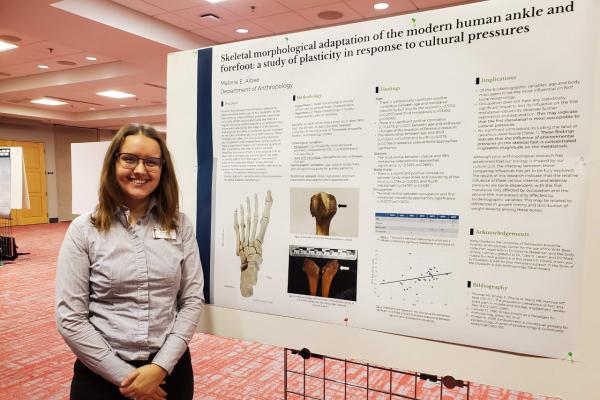 Description
Last month, two anthropology graduate students--Malorie Albee and Sara McGuire--presented at the 34th annual Hayes Graduate Research Forum on February 28, 2020. This program, "showcases the innovative and exemplary research being conducted by Ohio State graduate students across the full range of graduate degree programs and facilitates fruitful exchanges between students, faculty, the administration, and the public." Albee and McGuire, both PhD Candidates, presented preliminary results from their dissertations. 
Albee's research, titled "Skeletal morphological adaptation of the modern human ankle and forefoot: a study of plasticity in response to cultural pressures," analyzed the skeletal feet of 32 adult white males born on or after 1950. Her abstract states that, "Modern biocultural environments continue to place selective pressures on our skeletons. In the past century, many of these pressures have been culturally driven: automation and the shift to a digital economy placed less value on physical labor, shoes were altered by the advent of fast fashion, and physical activities at work and leisure changed as we spent increasingly more time indoors. These changes can affect the structure of the skeleton during growth and development, and as such can have a significant impact on individuals' quality of life. Considering the ways in which we have modified our environment, it is no surprise that at least one in five persons aged 45 years and older currently suffers from foot pain (1). This research adds to the understanding of more ultimate environmental causes of these modern ailments by testing the following hypotheses: First, skeletal morphology of the human foot has changed significantly since 1950. Second, and more specifically, the foot has become more constrained in response to the homogenization of its cultural environment."
McGuire's research, titled "Living in Dust and Smog: Identity, Inequality, and Pollutant Exposure during England's Industrial Revolution," analyzed skeletal remains from two historic English populations.  Her abstract states that, "From the opportunities available throughout a person's life to the type and quality of the environments in which a person lives and works, identity and inequality are determinants of their life experiences. While the Industrial Revolution was a turning point in world history, one consequence of industrialization was exposure to pollutants. This exposure varied significantly between individuals based on age, sex, socioeconomic status (SES), industry, and region. This research project explores how the inequality inherent in England's class-based social system during the Industrial Revolution in England (c. 1760 AD to c. 1850 AD) resulted in differences in pollutant exposure and health outcomes." 
News Filters:
---