November 1, 2019
Hunger Games: The politics of violence, victimhood and deservingness among Central American and Mexican (Im)Migrants
Image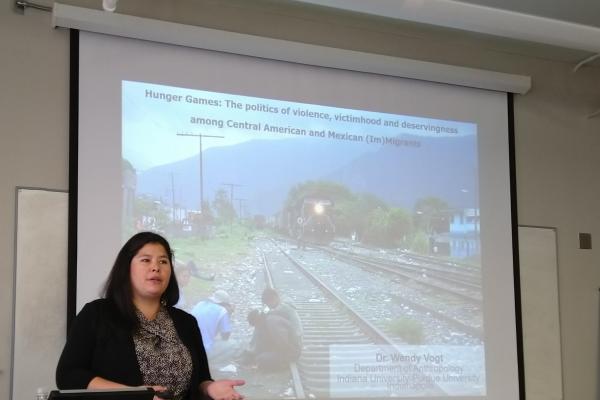 Description
In a talk that Dr. Wendy Vogt gave in the Department of Anthropology on 18 October 2019, she addressed emerging global transit journeys and in particular, the journey of Central American   asylum seekers to the US-Mexican frontier. Dr. Vogt suggests that migration studies and political anthropology need to move beyond the powerful dichotomies that define our thinking about sending and receiving communities towards an anthropology of transit. Having spent many years researching migrants and asylees and volunteering in migrants' shelters in Mexico, Dr. Vogt is most interested in what happens in between the countries of origin and settlement as Central American migrants spend months and years traveling to their ultimate destination, the USA. She argues that we need to understand transit as an emerging social world. This liminal space is also a social space that provides migrants with material and embodied experiences and informs health consequences. As migration routes are shifting, local communities change as well. Many communities become the hot spots for commerce, economic structures, services, and meanings developed around migrants.     
In her talk, Dr. Vogt provided the socio-political context for an understanding of Central American migration. Honduras, El Salvador, and Venezuela have witnessed the skyrocketing rates of violence and acute political insecurity in the recent decade driven by post-war violence, the effects of neoliberal economic policies, drug cartels' activities, and political crises. Fleeing economic and political insecurity, the natives of African and Caribbean countries join Central Americans who embark on dangerous journeys as they seek better lives for themselves and their families. It is relatively easy to cross into Mexico from Honduras and Guatemala, yet things start to get complicated in Mexico where migrants are subject to violence as they travel north. Similar to other transit journeys in the world, death and injury are the migrants' imminent threats. Tens of thousands of people have been reported missing, kidnapped for ransom, and raped over the past ten years. Train journeys often involve riding on the roofs which makes them dangerous – the fall from a train can lead to death or dismemberment. Yet, beyond violence, Mexican "arterial borders" also become the space for hope and solidarity that happen along migration journeys.   
Dr. Vogt recognizes well the dangers that haunt Central American migrants in transit, yet she suggests to move beyond the spectacle of violence. She seeks to understand why violence happens and how social structures of oppression perpetuate violence. Dr. Vogt's research unpacks the nexus of structural violence and everyday forms of violence that migrants experience. She argues that we need to consider broader infrastructures of mobility and security created by migration policies, the war on drugs and political agreements between the US and other state actors along the Central America – US transit corridor. Dr. Vogt reminded the audience that US immigration politics and rhetoric contribute to the securitization of borders and Mexican transit space. Transnational security initiatives such as the Merida and CARSI initiatives with declared aims of combating the threats of drug trafficking, transnational organized crime, and money laundering have eventually increased insecurity for migrants. The bordering practices throughout Mexico include checkpoints, military and police patrols and detention/containment. Trump era has brought family separations at the border and the requirement to remain in Mexico while the asylum cases are being processed.
Dr. Vogt concluded her talk by explaining why the politics of deservingness can be viewed as a kind of "Hunger games". She noted shifting power configurations and discourses on Central American migrants and DACA recipients. The alarmist depictions of 2018-2019 caravans consisting of dangerous individuals who want to break into the US southern border and the regular criminalize migrants in politics, as well as popular and media discourses. Choosing between the caravan and DACA recipients create hierarchies of deservingness. Dr. Vogt believes that we need to reframe our understanding of Central Americans as economic migrants and instead, recognize them as asylum seekers who flee violence. Moving beyond the powerful dichotomies of criminals and victims can contribute to more comprehensive US migration policies that are currently outsourced to Mexico and Central American countries through border policing and security initiatives.                          
             Written by Natalia Zotova
---