May 2, 2019
"Imagining and enacting Indigenous futures: diversity and the challenge of inclusion"
Image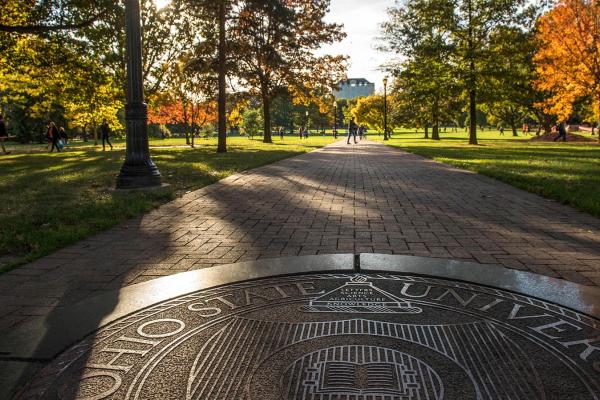 Description
Written by Shane A. Scaggs, Anthropology PhD student, NSF Graduate Research Fellow
The Ohio State University Anthropology Department, the Kirwan Institute, and the Center for Ethnic Studies recently had the pleasure of hosting Dr. Filiberto Penados, an indigenous Mayan education scholar and community rights activist, as part of the 2019 Spring Lecture Series. In addition, the Anthropology Public Outreach Program (APOP) interviewed Dr. Penados for an episode of the Anthropology Department podcast "A Story of Us". The episode will come available in August.
Dr. Penados' talk, "Imagining and enacting Indigenous futures" focused on the challenges of diversity, equity, and inclusion (DEI) and asked what academies and nation-states can learn about DEI from the Mayan land rights struggle.
Post-Colonial Land Struggles
Beginning in 1995, and following Belizean independence from over century of British rule, Mayan communities began legal actions to curb concessions provided by the Belizean government that were meant to facilitate industrial timber extraction and agricultural development on communal lands.
Over the course of two decades, Mopan and Q'eqchi' Mayan communities won a series of precedential legal cases that supported their claim for communal land rights throughout southern Belize. Countermapping and grassroots organizing played a pivotal role in this movement, spurring Mayan resistance that culminated in a successful international legal defense in 2015 as well as the recognition of Mayan lands and community leadership.
A Mayan Future
The outcome of these court cases was and remains monumental. But as the legal proceedings came to close, new questions emerged for the Maya. What kind of future to create? How to engage with market economies? What institutions, values, and infrastructure will be the foundation of a Mayan economy?
Dr. Penados' research engages with these questions by asking Mayan communities to imagine what that future might be through a series of drawing activities. Wielding pen, paper, and imagination, the communities identified important themes and values.
One recurring theme was a profound connection to the landscape through milpa—subsistence-oriented swidden agriculture. Study participants rendered rivers, mountains, and forests, and drew, in great detail, the contributions men, women, and children make to a thriving economy that is intimately connected to the neotropical environment. 
A second theme bore on the challenge of DEI. Community members rendered Mayan schools, banks, airports, and businesses; all very clearly labeled as Mayan and embedded within Mayan culture, subsistence practices, and the broader landscape. For Penados, these sketches clearly illustrate the desire to participate in market economies and with nation-states, but to do so intentionally and with an emphasis on Mayan sovereignty.
Epistemological Pluralism
Penados' research and activism in the Maya movement for social and environmental justice urges us to recognize that DEI is not about cultural traditions, clothing, or foods; it is not about having more diverse faces in the room; it is not about making capitalism multicultural.
DEI is about pluralism. Penados argues that the most obvious and formidable challenge for DEI is an epistemological one in which a plurality of philosophies, and the disagreements and tensions that arise between them, are welcomed. 
What the Maya movement teaches us is that justice is intentional, and it emerges from the bottom-up. Diverse perspectives, and the innovation they are believed to provide, cannot be instantiated at the top to trickle-down; they must cross-pollinate in the grassroots and proliferate through connections between communities, political economies, and ecosystems.
Speaker Biography
Dr. Penados has held Adjunct Faculty positions with the University of Belize and the Natural Resource Institute at the University of Manitoba. He is the founder of Tumul K'in Center of Learning, a Mayan non-governmental organization that promotes a multicultural education that is based on Mayan philosophies and values. Between 2001-2002, Dr. Penados was the President of the Central American Indigenous Council located in Guatemala City. Dr. Penados currently holds Assistant Professor and Visiting Scholar status at the Center for Aboriginal Studies at the University of Toronto, and is the Academic Director for the Center for Engaged Learning Abroad (CELA) in San Ignacio, Belize.
---