April 23, 2020
Leigh Oldershaw receives Graduate Student Award for Distinguished Service
Image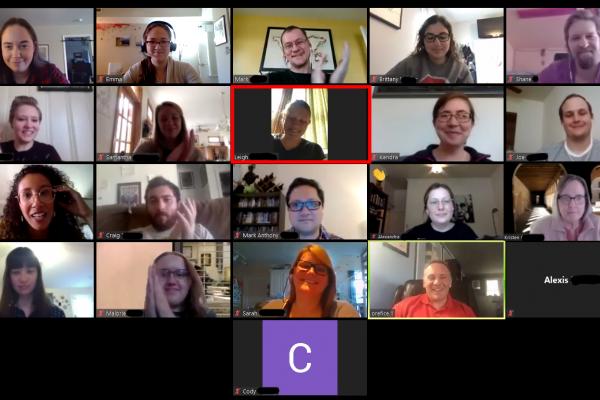 Description
During Tuesday afternoon's monthly board meeting (on Zoom!) for the Anthropology Public Outreach Program (APOP), included two unexpected guests: the Department of Anthropology Chair, Dr. Kris Gremillion, and Assistant Dean of Graduate Studies, Brian Orefice. These attendees joined for an exciting surprise—Orefice presented the Graduate Student Award for Distinguished Service to Leigh Oldershaw (red box), one of the founding members of APOP.
This award is bestowed to one applicant across the College of Arts and Sciences. This year, there were over 60 applications from 35 departments. The Distinguished Service Award "was created to honor a student who demonstrates excellence in service to the department, college, university, or community." Recipients of the award exhibit outstanding promotion of opportunities in public education that go "above and beyond the scope of their graduate assistantship or fellowship."
Oldershaw has been an integral member of the Anthropology Public Outreach Program since its foundation in 2012. This program, primarily run by graduate students and undergraduate volunteers, aims to connect the public to various aspects of anthropology using hands-on activities. To date, programs have included: Science a la carté at COSI,  Think and Drink pub talks at Seventh Son Brewing Company, annual participation in the Science Olympiad, map-based activities at OSU residence halls,  an educational podcast ("A Story of Us"), Fun Fridays at the Columbus Public Library, and interactive activities at Columbus City Schools. Oldershaw has helped organize and promote these various activities.
Congratulations Leigh!
Follow APOP on Social media @ohiostateAPOP
To contact APOP/Leigh: https://u.osu.edu/apop/
News Filters:
---