December 12, 2018
Professor Sam Stout's Retirement Reception
Image
Image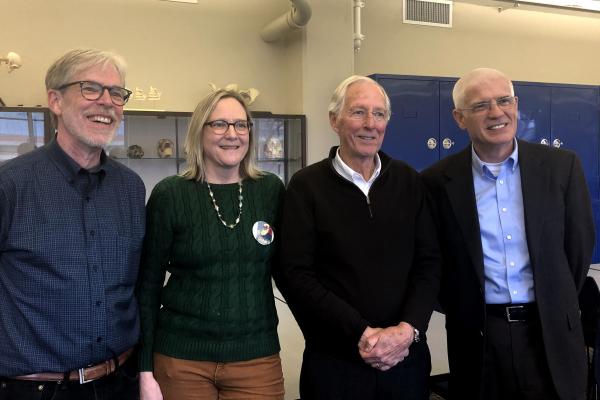 Description
Sam Stout's Retirement Reception
Department of Anthropology, Ohio State University
Comments presented by Clark Larsen
10 December 2018
Professor Sam Stout, an internationally-known leader in skeletal biology, began to build his reputation in the discipline soon after finishing his Ph.D. in biological anthropology at Washington University.  The seeds were sown for his productive career when he was recruited by the Department of Anthropology at the University of Missouri days after his dissertation defense.  During his nearly 25 years as a member of the Missouri faculty, including two terms as department chair, he wrote a series of publications on skeletal biology, mostly involving the development of histomorphometry (that's basically microscopic structures and their relationship to growth, development, and health) and publishing, often with graduate students, in leading scientific journals. All of his work has received considerable attention, underscoring the point that what is inside the bones is as important as what is outside the bones for informing our understanding of the human condition, past and present.  Especially important is the record of the number 1 health issue in post-40-year old adults, especially women, namely osteoporosis and bone loss generally.  His publications are the reason why most of us in the field know what we know about bone as a tissue and organ. 
I had long known of Sam's work prior to meeting him.  In fact, I don't think I had ever communicated with him outside of making reprint requests until I got an email from him just days after I started my job as Department of Anthropology chair at OSU in the summer of 2001.  In that email, he shared the news that his spouse, Candace Stout, was taking a faculty position in Ohio State's Department of Arts Administration, Education, and Policy.  Both of them were moving to Columbus.  In the same email, Sam asked me if he could teach a course in Anthropology.  I quickly fired back an email with a strong affirmative.  He started out with a course in skeletal biology, so important for the department's objective to building strength in biological anthropology. Moreover, skeletal biologists of Sam's international reputation were extraordinarily rare (and still are, by the way), and his presence even just teaching one course would be a huge plus for us.   
Sam got here, his course developed into two courses, one in skeletal biology and the other in forensic anthropology.  The courses immediately began to draw undergraduates, increase the number of majors, and greatly expand the number and quality of applications to our graduate program.   For the first five years, Sam was a part-time faculty member.  In 2006, the then dean, Paul Beck, appointed him Professor of Anthropology. 
If I had to pick a single word to characterize Sam's career and contributions, it would impactful. In the time he has been a member of our faculty, in addition to a passle of publications, many co-authored with our current and former graduate students, he has directed 13 PhDs and has 3 more to finish.  Virtually all of his former doctoral advisees are employed in PhD-appropriate positions. Sam tells me that during the 24 years he was at the University of Missouri, he produced 2 PhDs. I quickly fired back in our email exchange, "Wow! Things really did take off after Missouri!"  He replied, "Just goes to show you what having a strong focused program that attracts great students, plus having a supportive Department (and Chair) can do!"  His PhD completion and placement record is a big part of our enviable position in the top 10th percentile ranking in placement of our PhD graduates in tenure and tenure-track positions in biological anthropology.   In recognition of his contributions to research and scholarship, he was awarded Fellow by the American Association for the Advancement of Science in 2009 and at OSU the Joan N. Huber Faculty Fellow for Excellence in the Social and Behavioral Sciences in 2017. 
Sam, thank you for all you have done for Ohio State University's Department of Anthropology and the institution.  We owe you our collective gratitude.     
News Filters:
---