September 24, 2020
Welcoming our 2020 Graduate Student Cohort
Image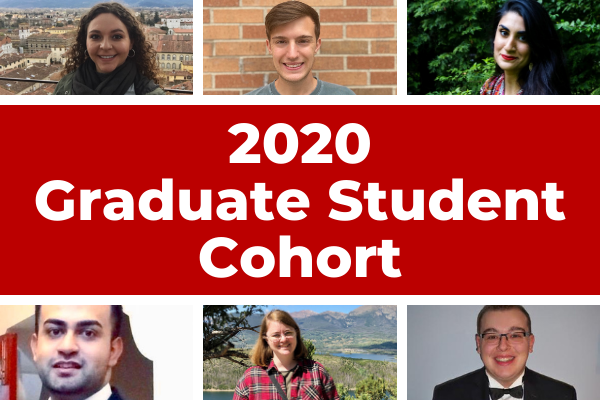 Description
With a new academic year comes a whole new cohort of graduate students to our department. Since we're unable to meet in person, we would like to take this opportunity to introduce all of our new students! They come from a variety of backgrounds, bringing new perspectives and approaches to the graduate student body. Learn more about each of them below. We could not be more excited to welcome them to our department and Ohio State! 
Drew Abrogast is a first-year graduate student at Ohio State focusing on primatology with Dr. McGraw as his advisor. He earned his BS in Evolution and Ecology from OSU in 2019 and has previous research experience in wildlife biology, paleoecology, and ethnobiology. His current interests involve gaining a stronger understanding of non-human primate behavior in order to minimize human-animal conflict and develop effective conservation strategies. He plans to focus his efforts on the endangered primates of the Tai Forest in western Africa.
Hiba Ansar is a first-year doctoral student (or, in the interest of hierarchical hegemony, an MA student) interested in the politics of reproduction and understanding the boundaries of biomedical interventions, particularly in communities of color in the US and around the world. She earned her BA from Temple University in Philadelphia, PA. Upon graduating she worked as a Community Projects Coordinator for YouthBuild Philadelphia where she organized community events for students. Thereafter, she worked for the Maternity Care Coalition where she trained to become a trauma-informed advocate for pregnant women in recovery from addiction, helping them navigate their pregnancies and connecting them to resources. Broadly speaking, she seeks to continue to unpack how biomedicine has and continues to be used as a colonial tool through the lens of maternal health. She remains deeply committed to efforts in decolonizing the way we understand health and healing.
Originally from Colorado, Megan Duncanson has a BA in history from the University of Colorado, as well as a BA in anthropology and biology and MA in anthropology from the University of Louisville. She has previous research experience in public health (toxicology), and her master's research was based in experimental immunology and its applicability to bioarchaeology. She started in the PhD program this fall and her current research interests broadly concern how stress, inflammation, and immune function may act in concert to shape experiences of health and disease in past populations, and how this is evidenced in the osteological and bioarcheological record. She is excited for the opportunities here at Ohio State.  
Andrew Mitchel received his BA from the University of Michigan in Anthropology and Spanish, and his MA in Latin American Studies from University of California, Los Angeles. His MA thesis concerned the Dominican academy system maintained by Major League Baseball, to which young Latin American baseball players are recruited and signed at 16 years old in their first step toward potential major league stardom. His current dissertation plan is to study Latinx foodways around the Midwest. I hope to learn about how food traditions, as well as jobs in food service and food production, play into livelihoods for Latinx folks in this part of the country.
Muhammad Armaghan Mussadiq is a doctoral student in the Department of Anthropology at Ohio State. Muhammad received his BS in Individual Studies focusing on global public health and gender inequalities from the University of Maryland. Muhammad's research interests include global health and development, health disparities, culturally competent healthcare, and the effect of stress and related health inequities, particularly among gender and sexual minorities and women involved in sex work and sex trafficking. Muhammad is engaged in prevention and intervention research to improve the health outcomes of communities at high risk or living with HIV in Pakistan. Muhammad's goal is to develop interventions that reduce health disparities among vulnerable, underserved, and marginalized populations.
Thomas Rohrer is a first-year graduate student on the MA track, working with Dr. Guatelli-Steinberg on topics related to dental morphology in human populations based on predictive models. He is interested in exploring topics related to humankind's ecological context, both in terms of how humans impact the environment and how the environment in turn changes us, to find solutions for living with our environment instead of having to change it. More importantly, he is interested in how such information can best move into general public consciousness, alongside more general science communication with anthropology. He is looking forward to making the most of the environment here at Ohio State!
Karina Sanchez is a first year PhD student at Ohio State. She earned a BA in Anthropology and International Studies at California University of Pennsylvania, and an MSc in Mediterranean Archaeology from the University of Edinburgh. She has worked as a commercial archaeologist in the northeastern US, and on various projects in Ireland, Spain, and Scotland. Her research utilizes material cultural to examine periods of new contact and exchange, particularly around the Mediterranean, and how this leads to change in both the native and incoming cultures.
News Filters:
---