December 6, 2022
Congratulations to Our Autumn 2022 PhD Candidates!
Image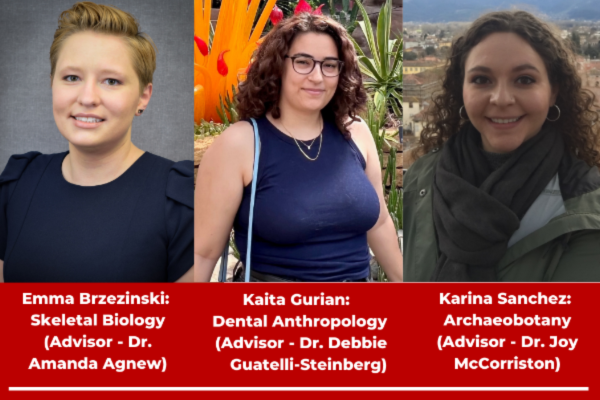 Description
Congratulations to OSU's Department of Anthropology's newest PhD candidates: Emma Bzezinski, Kaita Gurian, and Karina Sanchez! These candidates how been working on their dissertation proposals for the past year and successfully defended their projects this semester.

Emma's thinks the clavicle is clavi-cool and her project aims to investigate how morphological and microstructural characteristics of the human clavicle are organized and reflect response to mechanical loads, building upon biomechanical assumptions from known musculoskeletal relationships and documented clinical vulnerabilities.

Kaita asks three main questions: 1.) Is there a relationship between prenatal/perinatal maternal stress and fluctuating dental asymmetry and/or wider and more asymmetric neonatal lines in children's baby teeth? 2.) Are female teeth more buffered from stress than male teeth as would be predicted on the basis of sex differences in developmental canalization? and 3.) Is the enamel-dentine junction more reflective of stress than the outer-enamel surface when measuring fluctuating dental asymmetry?

Karina's project, titled "Phoenician colonial settlement and environmental, dietary, and cultural transformations – a comparative analysis of Cerro del Villar (Málaga, Spain) and S'Urachi (Sardinia, Italy)", seeks to better understand the impact of Phoenician colonization on culture, daily life, and human interactions with the environment by examining dietary changes at two sites with significant Phoenician colonial contact.

Congrats, candidates, and good luck in the next stage of the program!
News Filters:
---