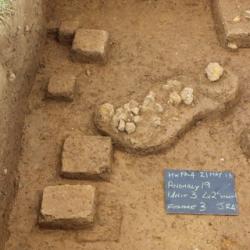 Located at the northeast corner of Emerald Parkway and Riverside Drive, the new Ferris-Wright Park and Hopewell Earthworks opening this fall will preserve and showcase the ancient earthworks, farmhouse and natural features of the space that are a significant part of Dublin's history, according to an article in City Scene Columbus.
The land surrounding the park has been home to many over the years, from indigenous peoples thousands of years ago to some of Dublin's first settlers and 20th century residents.
Dr. Jules Angel, a lecturer for The Ohio State University Department of Anthropology, led archeological digs at the site in 2013, 2014 and 2016, discovering fascinating artifacts.
"Students recorded any historic or prehistoric artifacts and areas before anything got changed during construction," said Angel