September 13, 2019
"Privy 2: Biosolids and You" has successful inauguration event
Image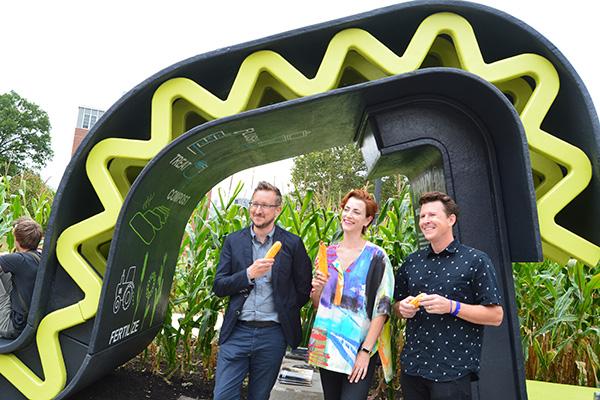 Description
Have you noticed a giant snake-like structure resting in a small plot of corn outside of 18th Avenue Library? Last Friday, September 6, members of the Department of Anthropology and the Knowlton School of Architecture gathered to celebrate the inauguration of "Privy 2: Biosolids and You," a demonstration garden that features the giant snake-like pavilion made out of recycled plastics. The shape is a nod to the plumbing infrastructure that carries our waste, which in turn is transformed into an agricultural fertilizer.
This project is part of a research collaboration supported by the Initiative for Food and AgriCultural Transformation (InFACT) Discovery Theme. It was led by professors Nick Kawa (anthropology), Forbes Lipschitz (landscape architecture), and Justin Diles (Architecture) who worked together with a team of students from anthropology, architecture, and engineering to create the space. The corn surrounding the Privy 2 installment was planted in soil amended by Com-Til, a compost product made with residual biosolids from the City of Columbus' wastewater treatment plants.
The goal of this space? To make people rethink their waste in a broader context. Human waste has been used in agricultural contexts for thousands of years, and that practice continues on today, but in a distinct form with the help of modern infrastructure and technology. As part of the overall project, the research team conducted interviews with both wastewater treatment professionals and Ohio farmers who use biosolids, seeking to understand the processes behind its production and application as well as general perceptions of its use. Final results will be shared with the public, along with a series of essays on the history of sanitation, which can be found in a zine produced by the team: https://privytwo.wordpress.com/zine/.
Guests at the inauguration event ate tamales (a traditional corn-based meal), and broke open a celebratory poop-emoji piñata. The architectural structure will remain long after the corn is harvested, so be sure to stop by and use the space!
News Filters:
---